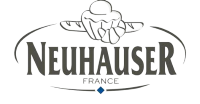 "Our products manufactured in France are made from 100% French, traceable wheat flour". 
Neuhauser, baker since 1906, holds a prominent position in the French Baked Goods sector. Its product range covers bakery, Viennese pastry and pastry items. 
Committed to a sustainable agri-food chain through the 'Sowing Good Sense' approach, Neuhauser seeks to enhance farming partner value and fulfill customer sustainability expectations. This approach encourages cooperation throughout the entire agri-food chain, with a focus on transitioning the French agricultural model and assisting farmers in enhancing production sustainability.
Which state are you from?