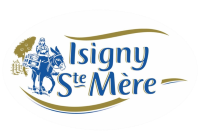 "Our Cooperative is situated within an exceptional terroir, but the products obtained from it would be nothing without the milk producers who are involved in preserving know-how that has been passed down through several generations."
Isigny Sainte-Mère is an independent dairy cooperative based in Normandy, France, where local producers have been carrying on the tradition and know-how that made Isigny's success centuries ago. With over 300 medals won, Isigny Sainte-Mère is the most awarded dairy company in France and is highly recommended by chefs and pastry chefs around the world. 
Proud of the quality and tradition of their dairy production, their products are always associated with the high standards of Normandy's dairy heritage.
Which state are you from?