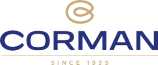 "Pioneers in our sector, we invented the first butter sheet in 1985."
Since its creation in 1935, Corman has developed a unique expertise in butter for chefs thanks to their know-how in milk fat innovation. Corman aims to create butters that are exceptional in performance, convenience and taste by selecting prime raw materials based on physicochemical, bacteriological and organoleptic criteria and on origin. 
Their unmatched expertise to extract the best out of milk fat is what makes their products the best solutions for chefs.
Which state are you from?